Amethyst Point Spiral Cage Necklace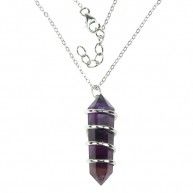 Amethyst Point Spiral Cage Necklace
925 fine sterling silver
Amethyst double point pencil set within wrap around spiral cage necklace, with 18 inch chain + 1 inch extender.
This product includes a velvet treasure chest style gift box, a 18 inch sterling silver chain + 1 inch extender and written product description inside of box lid.
This 925 Sterling Silver Product is Rhodium Plated.
Benefits:-
Enhanced Brightness & Shine
Tarnish / Scratch Resistant
Promotes Longer Life & Durability