Fairy Sitting Pendant Necklace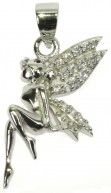 Fairy Sitting Pendant Necklace
925 fine sterling silver
Fairy Sitting Pendant with Crystal Cubic Zirconia Studded Wings Pendant.
Specifications
Dimensions (all dimensions are approximate)
Height: 30mm
Wdith: 19mm
This product includes a velvet treasure chest style gift box, a 18/16 inch sterling silver chain and written product description inside of box lid.
This 925 Sterling Silver Product is Rhodium Plated.
Benefits:-
Enhanced Brightness & Shine
Tarnish / Scratch Resistant
Promotes Longer Life & Durability