Lapis Lazuli Necklace Angel Bell - Creativity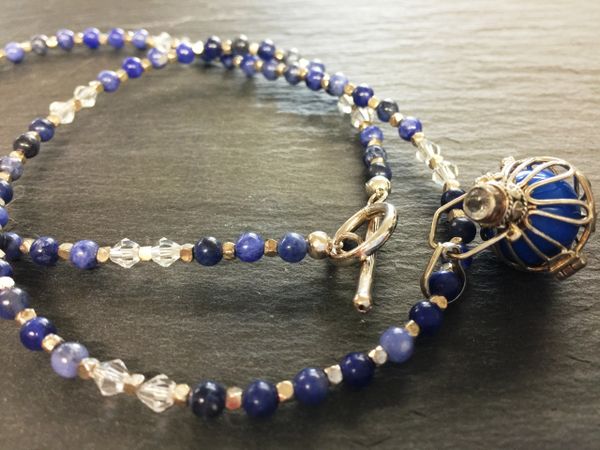 Lapis Lazuli Necklace Angel Bell - Creativity
Lapis Lazuli Creativity Angel Bell Necklace
Bespoke design handmade by K - Inspiregems
This charming necklace is handmade with Lapis Lazuli Gemstone Beads, Swarovski Beads, Sterling Silver Beads with an Angel Bell Pendant of Creativity and a Sterling Silver Toggle Clasp.
Silver Angel bell Creativity, this silver bells was made on the banks of the sacred mountain Ubud, in the heart, the deeply spiritual island of Bali are lovingly created and blessed with grace and love.
The gentle sound of the little bell will accompany the wearer always bringing to mind the possible presence of angels. With good fortune, and an open heart it is hoped that the bell may also draw attention from heavenly beings.
Lapis Lazuli Healing Properties
Inner truth ♥ Inner power ♥ Love ♥ Purification ♥ Intuition ♥ Positive magic ♥ Self-confidence ♥ Manifestation ♥ Friendship