Rutilated Quartz Necklace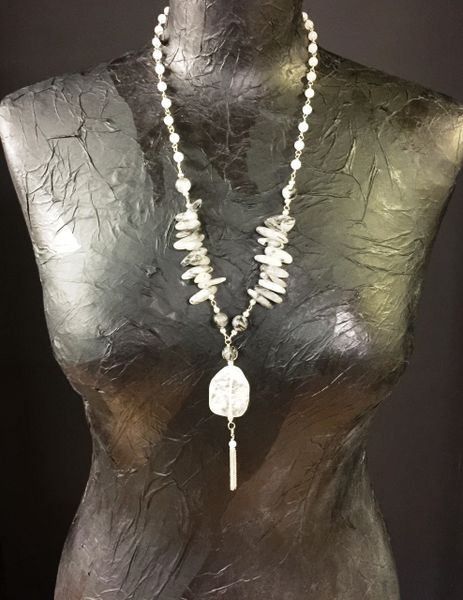 Rutilated Quartz Necklace
Rutilated Quartz Statement Necklace
Bespoke design handmade by K - Inspiregems
This long length plated silver necklace combines the attributes of Chunky Rutilated Quartz, Snow Quartz Gemstone Beads around the necklace and a statement Rock Crystal Pendant.
Rutilated Quartz Healing Properties
Protection ♥ Determination ♥ Self-control ♥ Strength of will ♥ Self-reliance ♥ Firmness
Rutilated Quartz is an illuminator for the soul, promoting spiritual growth. It cleanses and energises the aura. Draws off negative energy and desease, letting go of the past. Rutilated Quartz gives protection against the ill thoughts of others. It helps to reach the root of problems and facilitates transitions and a change of direction. Soothes dark moods and acts as an antidepressant. Rutilated Quartz relieves fears, phobias and anxiety. Promotes forgiveness at all levels.

Quartz Healing Properties
Harmony ♥ Energy ♥ Healing ♥ Psychic abilities ♥ Clarity ♥ Calmness
Clear Quartz is known as the "master healer" and will amplify energy and thought, as well as the effect of other crystals. It absorbs, stores, releases and regulates energy. Clear Quartz draws off negative energy of all kinds, neutralising background radiation, including electromagnetic smog or petrochemical emanations. It balances and revitalises the physical, mental, emotional and spiritual planes. Cleanses and enhances the organs and subtle bodies and acts as a deep soul cleanser, connecting the physical dimension with the mind. Clear Quartz enhances psychic abilities. It aids concentration and unlocks memory. Stimulates the immune system and brings the body into balance. Clear Quartz (Crystal Quartz, Rock Crystal) harmonises all the chakras and aligns the subtle bodies.